I am none too happy with the Police on this blog, there are some good ones I've met, and quite a few who were either lying or in denial about the dhulm / oppression their fellow officers do when in uniform, especially towards Muslims.
But sometimes we blame the Police unjustly for many social ills, often they are just ordinary people, trying to help the community in an imperfect way, with plenty of common sense but held down by a system which seems to lack all common sense and decency.
So try and have a little sympathy for the poor copper who is now going to have to pay the price for speaking a bit of truth to the parents of teenage delinquents in Salford.
Link to BBC news original article – http://www.bbc.co.uk/news/uk-england-manchester-39887357
BBC – Salford Police Officer's Facebook Rant Investigated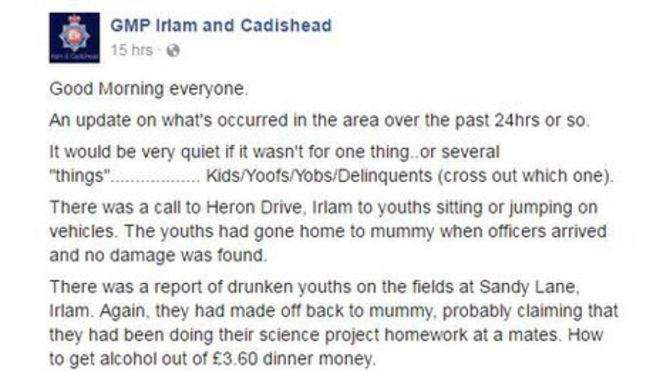 A world-weary police officer who posted a tirade about "stoned youths" on a force Facebook page has landed himself in trouble.
The fed-up bobby laid into anti-social teenagers, parents, and community support officers in the message.
It appeared on the GMP Irlam and Cadishead page on 7 May, prompting a complaint from a teacher, according to the Manchester Evening News.
Greater Manchester Police's Salford branch said it is investigating.
Ch Insp Glenn Jones said: "We have launched an internal investigation after we received a report of an inappropriate post on a GMP Facebook account.
"Officers and staff are expected to uphold the standards of behaviour in all of their duties including on social media."
The post has since been deleted.
Police officer's rant in full
"Good Morning everyone.
"An update on what's occurred in the area over the past 24hrs or so. It would be very quiet if it wasn't for one thing…or several "things"
"Kids/Yoofs/Yobs/Delinquents (cross out which one).
"There was a call to Heron Drive, Irlam to youths sitting or jumping on vehicles. The youths had gone home to mummy when officers arrived and no damage was found.
"There was a report of drunken youths on the fields at Sandy Lane, Irlam. Again, they had made off back to mummy, probably claiming that they had been doing their science project homework at a mates. How to get alcohol out of £3.60 dinner money.
"Please try and find out what your little Keanu or Beyonce are doing at night. If they're drinking or smoking weed, there will be signs. If they are, they will no doubt be causing mither in the street.
"Youths were throwing stones at residents houses and residents themselves, from the railway viaduct over Roseway Avenue, Cadishead.
"And finally, there was a call to Tesco at Woodrow Way, Irlam. Security called to report one man and his dog at the Cashpoint machines.
"Many cashpoint areas have points where you can leave deposits for the bank. They did so…. Defecating at the cashpoint… Not the dog…. The man.We have a description (Of the man- not the deposit) and CCTV of the incident. The dog is entirely innocent… Wonder if it's a shih-tzu?
"Only me in today as the PCSO's don't work on Sunday's. They have the day off to play with their crayons and Lego.
"Take care and lock your kids up till school time on Monday."